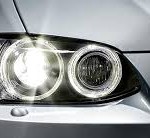 Headlight failure
It is good practice to check that your headlights are working properly on a weekly basis. We all, often see vehicles with just one headlight working and it is likely that they do not realise they have a problem.
If only one headlight is working, it can be very confusing for other drivers who might mistakenly think that there is a motorbike coming towards them on unlit roads. The danger increases if the second light fails.
Some tips for headlights failing:
You may find that there is still some light from sidelights. If you are following another vehicle you can still follow its tail lights to stay safely on the road and get to somewhere to stop safely.
You could try the dip switch, as there may be the full or dip beam available if one of them has failed. If the problem is electrical, there is a possibility the headlight flasher switch might work.
A bad connection could also be a possibility so try the light switch by turning it on and off a few times to see if anything happens.
If you find that you have to stop, use your hazard lights if they are working. In the dark you may be able to park safely by reversing using the reversing light, brake lights or fog lights, but if there are no lights at all, ensure that you get your vehicle away from the flow of traffic as they will not be able to see you in darkness.
The outcome of headlight failure could be as simple as replacing a bulb which varies in cost according the type of bulbs your vehicle is fitted with.
Lakeside Garage offer Free fitting for bulbs on most models, when purchased from us – you only pay the cost of the bulb. Other suppliers are likely to charge for fitting as well as the cost of the bulb.
If you need any further information, then please do contact us on 01784 482158, and we will be happy to help.
https://www.lakesidegarageservices.co.uk/wp-content/uploads/2013/09/HEADLIGHT-PIC2-150x138.jpg
138
150
Jay
https://www.lakesidegarageservices.co.uk/wp-content/uploads/2019/04/Lakeside_final_logo_white.png
Jay
2013-09-30 10:47:48
2019-10-22 12:50:39
Bulb failure information